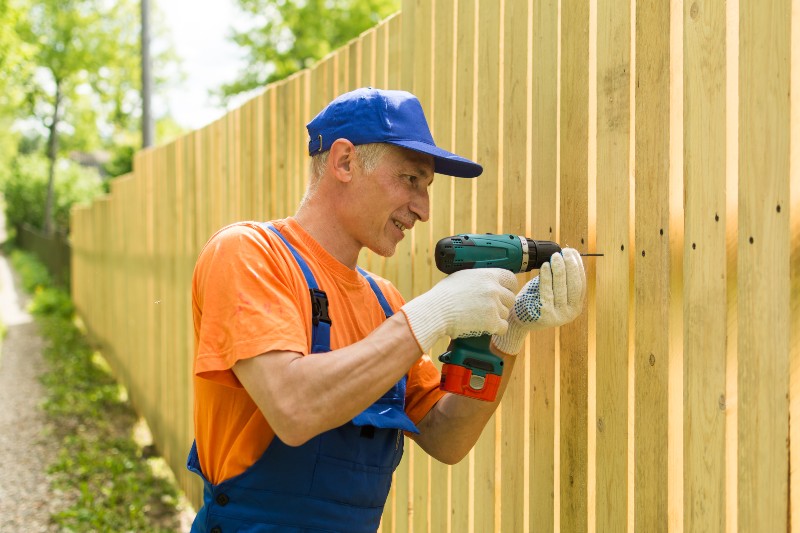 Difference between residential and commercial fences - Austin, TX
CALL FOR AN ESTIMATE
What is the difference between home fences and commercial fences?
The main difference between fences for homes and fences for businesses is what they are used for. Residential fences are usually put up to give homeowners privacy and security, as well as to improve the look of their property. On the other hand, commercial fences are made to serve different purposes, such as security, privacy, controlling access, and dividing property. Commercial fences can also be used to meet certain rules in an industry or to make a commercial property look nicer.
Request A Quote
We promise to get back to you as soon as possible.
Schedule An Estimate
CALL NOW (512) 690-0773
Fence materials and buildings
Here ate Fence Repair Austin, we use the best materials to build fences. The materials and building methods used to make residential and commercial fences are also very different. Most residential fences are made of wood, vinyl, aluminum, or wrought iron. Commercial fences, on the other hand, can be made of steel, chain-link, concrete, and other materials. Most commercial fences are bigger and stronger than residential fences. They are made to withstand heavy use and bad weather. Commercial fences also need more specialized tools and techniques, like welding and drilling, to be built.
Dimensions of a typical fence in Austin, TX: How High and How It Looks
Residential fences are usually shorter and have more decorative designs because they are meant to make the home look better. They might also have latticework or pickets to make them more interesting. On the other hand, commercial fences tend to be taller and more practical in design. They might also have extra security features like barbed wire, electric fencing, or devices that make it hard to climb. Local zoning laws and regulations may also limit the height of commercial fences.
What do residential fences look like in Austin, TX?
Residential fences in Austin, TX, can be made of a variety of materials and styles, depending on what the homeowner wants and what the design rules of the neighborhood are. When looking for fence company near me make sure you use some of the common types of residential fences such as the following:
Wood Fences: In Austin, wood fences are a popular choice for homes. If you need a residential fence company near me, we are here to help you. They come in different styles, like picket, ranch rail, and privacy, and can be stained or painted to suit the homeowner's tastes.
Wrought Iron Fences: Fences made of wrought iron can make a home look more elegant and decorative. They are often put in front of a house for decoration or used as a fence around a pool.
Chain Link Fences: Chain link fences are a good option for residential properties because they are inexpensive and last a long time. They are often used to fence in gardens and backyards.
Vinyl Fences: Vinyl fences are becoming more and more popular as a choice for homes. They are easy to take care of, come in many colors and styles, and can look like wood, wrought iron, or other materials.
Brick or stone masonry fences can give a home a high-end look. They are strong and last a long time, and they can help block out more noise.
Bamboo Fences: People in Austin who want an eco-friendly fence that looks natural often choose bamboo fences. They can keep you private while still letting air and light through.
Do rules apply and how about licenses to build fences
There are different rules and permits for both residential and commercial fences. For example, local zoning laws may put limits on the height or location of fences around homes. They may also need a permit or approval from the homeowner's association or the local government. Commercial fences, on the other hand, are subject to stricter rules and may need permits and approvals from multiple agencies, such as zoning boards, fire departments, or building inspectors. Some rules or regulations may also apply to commercial fences, such as those set by the Occupational Safety and Health Administration (OSHA).
In conclusion, there are important differences between residential and commercial fences that should be taken into account when choosing and putting up a fence. Most residential fences are built for privacy and to look nice, while commercial fences are built for specific purposes like security, privacy, and controlling access. Depending on what they will be used for, the fences will have different materials, ways of being built, heights, and designs. When property owners know the differences between residential and commercial fences, they can choose the right fence for their needs and follow any rules or permit requirements.
Places you should know in Austin, TX
Fence Repair Austin
Hours of Operation
Mon 7:30 am - 7 pm
Tue 7:30 am - 7 pm
Wed 7:30 am - 7 pm
Thu 7:30 am - 7 pm
Fri 7:30 am - 7 pm
Sat 7:30 am - 7 pm
Sun Closed